Featured News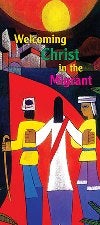 Migration has been a particular focus for many Maryknoll Affiliates and Chapters. For those of you who have been concerned about this issue, the US Conference of Catholic Bishops have materials for National Migration Week 2012: January 8 -14.
Information about National Migration Week and materials are available here.
While you are at it, you may want to read about a letter from 33 US Bishops calling for "A fair immigration reform, humane and effective."